Member Spotlight
The Blue Waves Preschool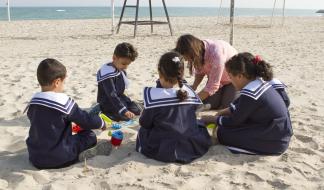 I always have had a vision to raise sustainability and environmental awareness, and I have been able to do that with The Blue Waves Preschool in Kuwait, which I opened in 2012. I graduated from the University of Kansas in 2007 majoring in Environmental Science. After graduating, I volunteered in a nonprofit organization called Small World that provides outreach to international women in Kansas. Those three years at Small World gave me the base experience to open my preschool in Kuwait.
To start, I searched for a location that fit my criteria for outdoor activities for children that would give them the chance to enjoy nature and be aware of the diversity in it. Hence, I chose to establish it in Al Rimal Hotel & Resort, which is located on the coast. I was fortunate to find a group of teachers who share my passion, and also the management of Al Rimal Hotel and Resort share the same interest in preserving the environment and raising environmental awareness. Al Rimal management welcomed the idea and cooperated with us by helping to overcome many obstacles that we faced at the beginning of the project, and sponsored some of our activities.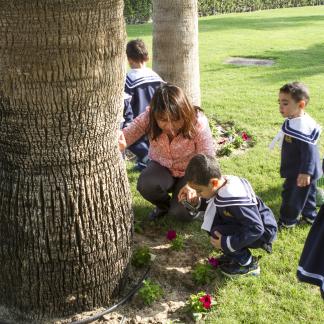 In The Blue Waves, we adapted Creative Curriculum to structure a curriculum focused on raising environmental awareness, preserving nature, and building curiosity for exploring our surrounding environment. We opened the school in September 2012; since then, our school has been blessed with parents who share the same interest in healthy life style and concern about the environment. They are interested in educating their children with environmental knowledge and care.
Most preschools in Kuwait are held in houses and children are kept indoors all the time. The schools rely on smart screens in their teaching process, which we believe leads to less social interaction between children. Unfortunately, Kuwait is one of the countries with high rates of children's obesity, and suffers from an inactive life style. 
At The Blue Waves, we believe that we have a responsibility to improve children's lifestyle in Kuwait. We enhance children's learning through nature, promote active social lifestyle, and encourage healthy eating habits. The Blue Waves Preschool uses high quality standards to achieve positive outcomes for children. 
The next target was to go to the international level for exchanging experiences and sharing knowledge. We happily found the Natural Start Alliance, which shares similar interests with us. Accordingly, we are optimistic that we can change the community attitude toward the environment, and consider natural learning as an important element for children's experience.