Member Spotlight
Notchcliff Forest Preschool and Forest Kinder Co-op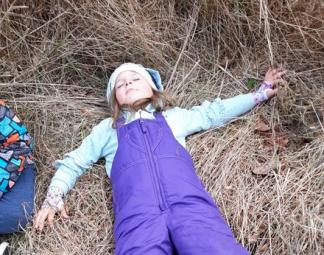 Notchcliff Forest Preschool and Forest Kinder Co-op are nature programs offered by the Eastern Region of Forest and Nature Schools (ERAFANS). These programs take place on the ground of the Glen Meadows Retirement Community and in the greater Baltimore area. The Forest Preschool program at Glen Meadows is fairly unique in that children enrolled in forest preschool participate in programming with residents of the retirement community. This, of course, changed a bit during the pandemic, but program administrators got creative, finding ways to continue this partnership over the last year. We reached out to Monica Wiedel-Lubinski, Director of ERAFANS, to learn more about these programs. 
This spotlight was written by Daniella Bacigalupa, Site Manager for Notchcliff Nature Programs (naturalcommunity.org) and Monica Wiedel-Lubinski, Director of the Eastern Region Association of Forest and Nature Schools (erafans.org).
What was the motivation behind creating Notchcliff Nature Programs? How did they come to be?
Anyone who visits Glen Meadows Retirement Community in Baltimore County, Maryland could appreciate the beautiful, vast landscape of woodlands and meadows on their grounds and the loving care they provide to their residents. As we considered where to create our first model of nature-based education for the Eastern Region Association of Forest and Nature Schools (ERAFANS), Glen Meadows was calling. After receiving an enthusiastic 'yes!' to formally partner with them, we launched Notchcliff Nature Programs as the community-based arm of children's programming for ERAFANS. This program serves as both a wonderful offering for children and elders in our community as well as a forest 'lab school' for ERAFANS. It is a beautiful way we continue learning from children and the land, and a way to offer more options for nature-based learning in the area. The approaches used at Notchcliff complement the professional development we offer to teachers and administrators, far and wide. We should note that our program operates as a fully immersive forest preschool and homeschool co-op and does not qualify for licensing (YET) by our state department of education.
Can you tell us more about your partnership with the Glen Meadows Retirement Community?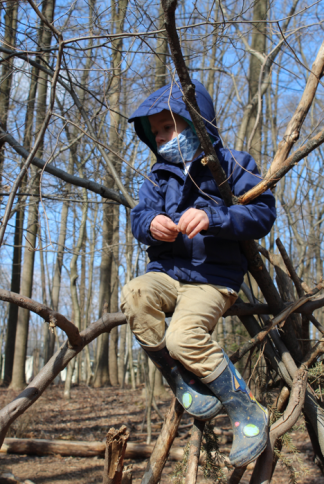 As part of our partnership agreement, we facilitate programs with residents of the retirement community on a monthly basis. Our 'Grand Friends', as we call them, are always delighted to encounter the children! As you might imagine, given the COVID-19 pandemic this year our interaction was limited. We shifted our focus to become pen pals, exchanging letters and photos of our adventures on the grounds. We found other ways to work together, such as collecting food donations to support others in need. 
Prior to the pandemic (and looking to the future), typical experiences include nature crafting, tasting harvest foods and sharing recipes, singing seasonal songs, tapping maple trees, and sensory experiences with nature's treasures. We also lead Forest Storytime outings for residents and their extended families, which is a fun way to encourage families to explore the campus with grand- and great-grandchildren. Whenever we meet residents on the trails, we are always happy to share our outdoor discoveries.
The nearly 385 acres of grounds at Glen Meadows are ripe for exploration in the woods, meadows, and stream. Many of the residents there enjoy the grounds, just as we do. The lovely staff at Glen Meadows cherish the importance of contact with nature and show their support in many ways. This spring, we were delighted to partner on a Pollinator Garden Project involving children, families, and the Glen Meadows community in the design and creation of the space. The pollinator garden provides yet another way for us to interact with Grand Friends, caring for the garden and finding respite there. 
Your Forest Kinder Co-op is an option for families who are homeschooling or distance learning and want to balance that with the benefits of time spent outdoors with peers. Has that program grown or changed during the pandemic? 
The Forest Kinder Co-Op piloted during 2020-2021 in response to the challenges families were facing because of the pandemic. With so many families grappling with schooling and pulling their children out of school altogether, our fully immersive outdoor learning program was an ideal choice for some. Because we operate solely outdoors, our class presents a safer option than indoor classroom settings, in terms of virus transmission. The co-op is a place for children to play, socialize, destress, and discover nature in all seasons. We reference K-2nd grade Next Generation Science Standards and nature-based homeschool curricula such as Wild Math, but our primary reason for being is to offer timeless, unstructured nature play. We strive to respond to our community's need for nature programming, and the co-op is a great example of that.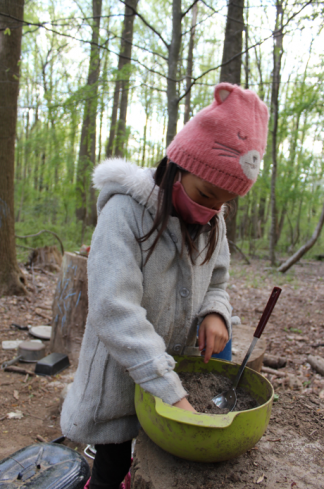 You've been involved in advocacy efforts in the state of Maryland for increased access to nature-based preschools. What do you hope are the outcomes of these efforts? Are there lessons you can share at this point that might help other advocates? 
We are in a unique position to advocate for outdoor preschool licensing because we are both a provider working directly with children in Maryland and a nonprofit association that broadly serves the interests of nature-based educators and programs hailing from different states. In Maryland, we are determined to provide licensing to outdoor preschools for two big reasons: 1) All children deserve access to nature-based education. If a child's family needs to access state funding for tuition assistance, unlicensed programs cannot qualify to accept those funds. This creates an inequitable barrier to access outdoor preschool and it disproportionately affects children in BIPOC and low-resourced communities. Further, it places the sole responsibility of tuition assistance on small nature-based programs. 2) We must ensure that teachers have specialized knowledge and training to ensure children's safety in immersive outdoor settings. Health, safety, and risk management are different in immersive settings, which impacts ratios and a range of practices and safety routines. By licensing outdoor preschools, we can ensure standards are in place to better protect children. This would also ensure that teachers are equipped with basic credentials required for all early childhood educators, with developmentally appropriate practices in mind. 
The complexities of these goals vary from state to state, but in Maryland, these are top of mind. We are establishing a coalition of stakeholders, including delegates and representatives, who understand this need and will support legislation to take action. We are grateful for the work of Aliza Yair, Kit Harrington, and many others who have blazed a trail forward in Washington state so that others can learn from their important journey towards outdoor preschool licensing.
About the Authors 
Daniella Bacigalupa is a Site Manager/Lead Teach for Notchcliff Nature Programs and nature lover at heart. Monica Wiedel-Lubinski is the Executive Director of the Eastern Region Association of Forest and Nature Schools. She is also the author of Nature Play Workshop for Families (Quaro Press: 2020) and savors the song of cicadas.