Member Spotlight
Parent Infant Center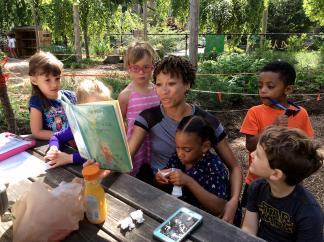 The Parent Infant Center (PIC) has operated a high quality, full-day, full-year early childhood program in West Philadelphia for over forty years. The program has an enrollment of over 300 children and has been accredited by NAEYC for 25 years. Families served by the program speak over 20 languages and come from a variety of socio-economic backgrounds. We heard that the program placed a high value on nature as a home for children's play and learning, and asked Debbie Green, PIC's Executive Director, to tell us more!
PIC works to provide and increase access to high-quality early childhood education and school-age programs. Can you tell us how nature helps you to achieve that goal, especially for early childhood?
We are very fortunate to sit on a property that includes a large outdoor space, which we transformed six years ago into an urban nature playground certified by Nature Explore. A growing body of research has shown that nature has an unusually powerful influence on positive development. Recognizing this, we feature natural experiences throughout our child-directed, project-based curriculum. 
Officially named the Magic Circle Nature Playground, our outdoor space offers unstructured nature play with endless opportunities for exploration and discovery. There are a variety of outdoor learning centers where children and their teachers make daily meaningful connections with nature. Among trees, bushes, perennials, a butterfly garden, and vegetable and flower gardens, children learn about the life cycle and other natural processes. We have areas for playing in sand and dirt, building with loose parts and jumping among logs, playing with big blocks, and doing outside art. Rain or shine or even snow, children experience nature all year long at PIC!
Our Nature Playground gives PIC children an opportunity to connect with nature in a way that many growing up in an urban environment don't have. We are committed to families in our community who are unable to afford this level of care, and have increased the number of children who come to PIC free of charge through a state subsidy program. 
Reaching beyond the children enrolled in our early learning classrooms, the playground is also open to families in our neighborhood. The Magic Circle is a beloved part of the PIC campus and serves as an inspiration and model for children's play, learning, and socio-behavioral growth for our colleagues in the early childhood community.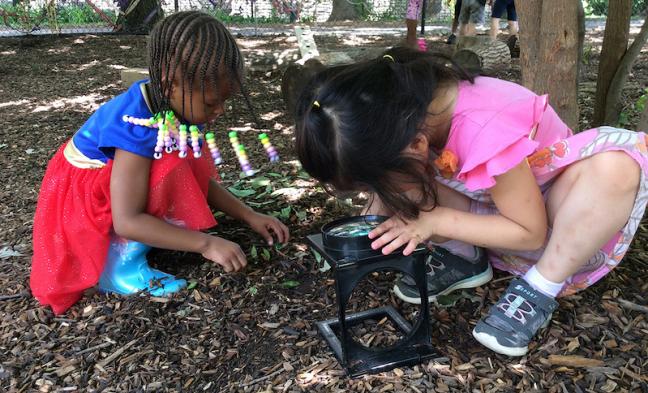 Ever since its founding forty years ago, PIC has been partnering with others in the community to meet the needs of families in the neighborhood. Can you give us an example of a community-based program that brought quality early learning into more children's lives?
PIC is currently in partnership with Smith Playground and First Up (formerly DVAEYC) on a grant funded by Vanguard Corporation. Each partner is providing an element of support to early childhood programs in low income neighborhoods of Philadelphia, with the goal of moving them along the continuum of quality improvement. We are bringing nature-based activities that will increase hands-on and active learning in more classrooms. We are also giving teachers the tools they need to provide more open-ended experiences and opportunities for discovery to their children.
First Up is providing hands-on coaching in the classroom. Smith Playground is providing opportunities for the participating children, teachers and families to come to the playground for mornings of play and nature-inspired activities. PIC is welcoming teachers into our classrooms to observe high quality programming, with follow-up reflection sessions and workshops led by our teachers. While the project is still in its initial stages, we are hearing wonderful feedback from the participating teachers who are seeing positive transformations happening in their own classrooms.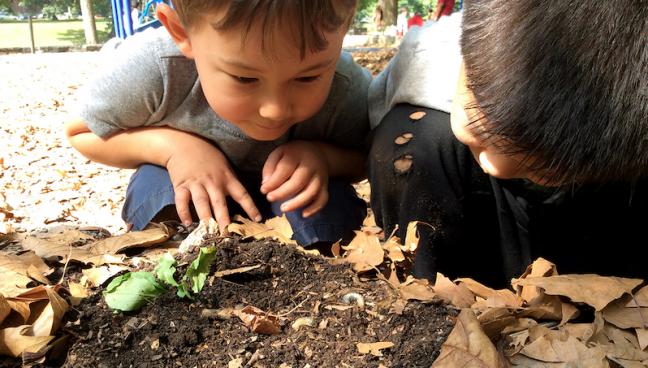 You are currently partnering with the Smith Memorial Playground to open a new urban nature preschool in Philadelphia. Can you describe your plans for this collaborative project?
We are so excited about this new partnership! Our collaboration with Smith Playground will bring an even higher level of learning to more children with the first urban nature preschool of its kind in Philadelphia. 
Since 1899, Smith Memorial Playground and Playhouse has provided children and families of Greater Philadelphia indoor and outdoor play experiences at NO COST. Located in Philadelphia's Fairmount Park, Smith is situated on its original historic landscape—6 1/2 acres of open fields, wooded terrain, and sloped hills—and has extensive natural resources to offer.
Smith Playground and the Parent Infant Center together will operate an Urban Nature Preschool and Teacher Training Center. The preschool will serve 36 children ages 3-5 in two classrooms and is scheduled to open in the fall of 2020. The curriculum is grounded in nature and will emphasize daily walks, active exploration, and free play in nature. Children will spend a significant time outdoors in all seasons. It will provide full-day childcare to meet the needs of families, and it is expected that 50% of enrolled families will qualify for childcare subsidy.
Educators in Philadelphia currently have limited opportunities to develop knowledge and skills to implement nature-based play opportunities for children. The Urban Nature Preschool will also be a training site for early childhood educators to learn how to provide nature-based play and learning in their own classrooms. Teachers will observe the preschool in action and participate in professional development sessions. In this way, the number of Philadelphia children who benefit from access to nature continues to grow.