Earlier this summer, I had the great fortune of joining 26 other early childhood educators from the United States, Australia, and England on a study tour of nature kindergartens in Scotland with
Claire Warden
and her
Mindstretchers
team. Below are the highlights of my travel journal. I've focused on early childhood environmental education and left out many other details that made it an amazing trip—sheep grazing the hillsides, distillery visits, haggis tasting (quite good by the way!), pheasant sightings, and my new love for morning tea.
Day 1: Scotland Bound

Today is the day I've been looking forward to for months: I'm bound for Scotland! On my flight, I managed to read a good portion of the
new publication released by Bank Street College
focusing on place-based education. (It includes an article by Natural Start Alliance Advisory Board members Ken Finch and Patti Bailie.) It seemed appropriate reading material as I travel to meet with folks who are connecting children to nature in their unique parts of the world. 
Day 2: Exhaustion & Elation 
My flight landed in Edinburgh an hour early so I did as any good nature lover would do—I went outside! I sat at a small cafe table and soaked up the sun until meeting up with my fellow tour mates to board a charter bus bound for the town of Crieff. En route, we passed the Stirling Castle, Wallace Monument, the Kelpies, and had amazing views of the green countryside periodically sprinkled with the yellow of the rape seed oil fields. After settling in a bit at the
hotel
 we gathered for a welcome and introduction on nature pedagogy by Claire Warden. Tired, jet-lagged spirits were quickly lifted—
this
is why we'd travelled all this way!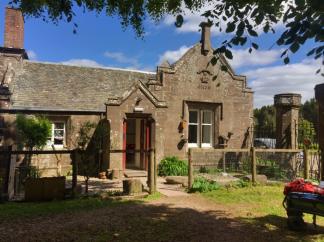 Claire's opening remarks focused on nature pedagogy, which connects the inside, outside, and beyond. She reminded us that each culture and climate is unique, but the overall pedagogy is the same. She explained the importance of moving from "canned nature" to the immersive, hands-on approach of nature kindergartens. My favorite quote from the evening was to prepare us for our visit to Auchlone Nature Kindergarten. Claire said, "The program isn't the gate house, it's the ethos beyond the gate house." This is a wonderful reminder for all of us: It isn't the physical space you have for an early childhood program, but the interactions that happen in that space. 
Day 3: Let's Get Down to Business
After a delicious Scottish breakfast buffet (complete with haggis and black pudding) we made our way to Fowlis Wester Village Hall for a morning of presentations by Claire related to nature pedagogy. This included discussion of creating a sense of place for children. She also discussed her
Floorbooks
 approach for documenting learning. The final discussion of the morning focused on
Talking Tubs
 as a method for ensuring that children's voices are being included in curriculum planning.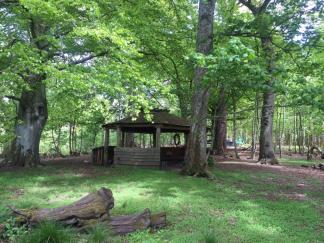 It would be impossible to summarize her methods here, but there were a couple overall themes that are relevant to anyone implementing a nature-based approach. First, children should have a voice in the curriculum development. Both the children and teachers should be active participants in asking questions and discovering the answers. After all, is it meaningful to announce, "Today we're going to learn about rivers," when really the children are curious about the fish that are swimming in that river? The second major theme that emerged was that
any
activity you do with the children should connect to the curriculum and child outcomes. I think the strength in Claire's work with the Floorbooks and Talking Tubs is that they make a direct connection between planning, documentation, and curricular outcomes. 
In the afternoon we had the opportunity to visit Auchlone Nature Kindergarten. The area includes the gate house, a small shed with hooks for the children's backpacks and a cozy corner perfect for reading a story, a "kinder-kitchen" for meals, fenced outdoor play space, and a wonderful woods for exploring outside the fenced area. What an amazing space for young children!  
Day 4: Nature is in the City, Too!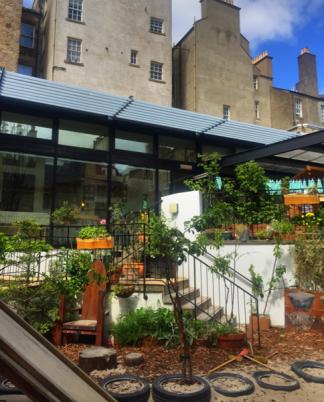 We traveled to the city of Edinburgh to visit the
Cowgate Under 5's Centre
 which is tucked away in an alley off the bustling
Royal Mile in Edinburgh
. The moment you step inside the Centre, the fast-paced city life disappears and you discover children immersed in play in a warm, welcoming learning environment.
You might wonder what this has to do with nature kindergartens? Their play area is packed with nature. It's a compact space, but full of plants and loose parts. However, the most interesting thing about this program is not the play area, but rather the opportunities they offer the children to experience nature nearby. Once a week, they visit a hidden park about three blocks away and next to Edinburgh Castle. And each day they take a small group of children, via a 15-minute bus ride, to what they call Stickland. (It's a property owned by a local camp group). Children can choose if they want to stay at the Centre or visit Stickland. At Stickland, the only facility is a small yurt with a woodstove, which serves as a place to warm up after excursions to the woods on wet, chilly, Scottish days.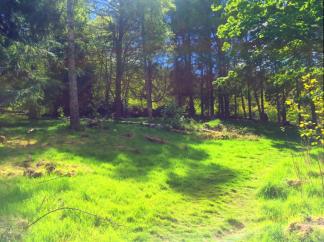 Cowgate's program model is a prime example of how even a very urban program can incorporate nature. They have made an effort to provide positive, meaningful outdoor experiences to the children, which ultimately is the heart of what makes any program truly nature-based, no matter where it's located. 
Day 5: More International Perspectives 
This was a day of international perspectives. To kick off the day, Anders Farstad of Norway spoke about the nature kindergarten program he oversees. He shared the program's overall principles, safety rules (there are only four), and the benefits of a nature kindergarten approach. He shared many golden nuggets of information, but two particular statements summarize his presentation. First, he said, "Children should like to be outside more than inside." The second was, "If we protect them too much we take away the possibility of them trying and failing."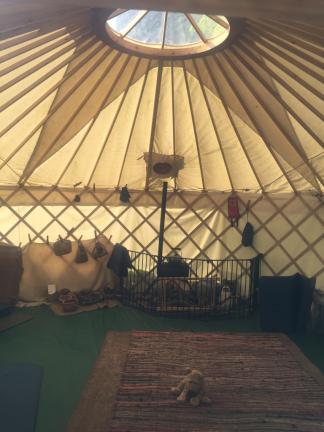 Anders also spoke on the importance of having male teachers in early childhood, and suggested that nature pedagogy may be the gateway to getting more men involved. He contends it should be a basic right of a child to have a role model of his or her own gender. I completely agree! We have had three male teachers in our Nature Preschool program at Chippewa Nature Center and I'm confident if they had to work in a plastic world of primary colors and cutesy nature they would not be working in early childhood.
The next speaker was Carol Breedlove of the
International School in Dusseldorf, Germany
 who provided a synopsis of the work she and her team have been doing in the primary years program. About five years ago, they began working with Mindstretchers to shift to a more nature-based approach and now have staff dedicated to integrating nature into the curriculum from reception (4-5 year olds) through fifth grade. Now, each day children are outdoors for part of their instructional time, not simply recess. Carol pointed out that teachers have seen significant progress in English language learners, reluctant learners, and students with special needs as a result of the outdoor learning model, demonstrating once again the power of a nature-based approach. 
Claire Warden then came back to the stage to discuss her "diagrams of practice" which will be published in her new book coming out this fall. I won't steal her thunder here, but let me just say you might want to pre-order your copy! You can find out more
here
. Kate Hookham, a Minstretchers trainer, rounded out the day with a discussion on benefit and risk assessments. She emphasized the importance of involving children in the assessment as well as remembering to include the
benefit
portion of the assessment.  
Day 6: Exploring Local Culture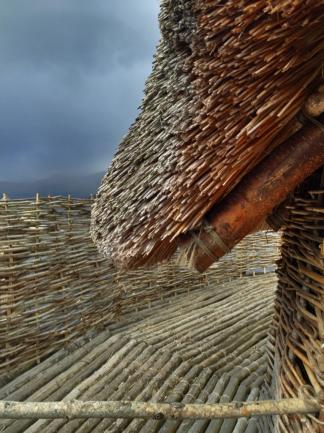 This was our day to explore local Scottish culture and discuss the value and role local culture can play in our early childhood programs, particularly as a way of creating a sense of place. The first stop was the
Crannog Centre
. What an amazing structure the crannog was, and it illustrated how culture is so closely tied to the natural resources of a place. We then drove down the road to the Hermitage National Trust site to enjoy a beautiful, leisurely walk through the Douglas fir woods along the banks of the Braan River. It was a great day chatting with others on the study tour and processing all we'd learned throughout the week. 
Day 7: Practical Skills Day
The final day of the study tour was full of hands-on practical skill development at the Mindstretchers office. Surrounding their office, the Mindstretchers team has created a palette of examples of elements to add to play areas whether your current facility is asphalt or a wooded natural area.
We were able to try our hand at fire making, cooking over the fire, whittling, making charcoal for drawing and painting, fabric dying with plants, and making ember bowls.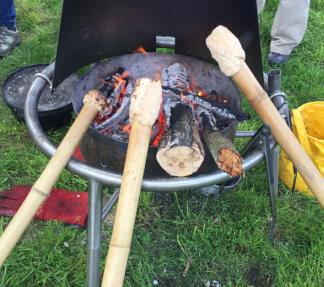 My takeaway message for the day was to remember that just because you're an adult doesn't mean you should stop experiencing or learning. Demonstrating an attitude of life-long learning may actually be the most important thing we teach our children. This was a perfectly beautiful message, on another gorgeous Scottish day, to wrap up a fun, educational, and inspirational week. 
About the Author

Rachel Larimore is Director of Education at
Chippewa Nature Center
in Midland, Michigan where her responsibilities include administration of all youth-related programming including the Center's nature-based preschool. She is the author of "
Establishing a Nature-Based Preschool
," and is currently a doctoral student in the department of community sustainability at Michigan State University.