Are you considering opening a nature-based preschool? If so, there are many details to sort out long before you officially open the doors.
In a previous Natural Start article
, my colleague Dave Catlin provided a framework for developing a business plan for your nature-based preschool. The goal of this article is to help you think through the programmatic decisions you'll need to make as part of your broader business plan.
I will start by discussing the importance of establishing a program philosophy and evaluating your available resources. Then I will review  programming decisions you will need to consider related to curriculum and other aspects of your program, building and site, marketing, operations, and the financial aspects of your preschool.
Establishing a Program Philosophy
The first step is one you've likely been thinking about already, which is articulating clearly the philosophy of your program. This should generally include the program model you envision. For example, are you picturing a nature-based preschool that will include about half of your day outside and half in an indoor space? Or perhaps you're envisioning something more like a forest preschool model where almost the entire day is outdoors and you need a less structured indoor space. 
Your philosophy statement should also describe the pedagogy you envision. How do you view the role of the teacher? Will you focus more heavily on one developmental domain (i.e., physical, cognitive, social/emotional) or all of them equally? Whom will you serve and how? Perhaps you are more interested in serving a few families through deep, long-term connections rather than lots of families with less frequent contact. Is it important that you serve children from diverse backgrounds? What level of parent engagement do you expect? 
Your philosophy should be written down and prominently displayed so that it is part of every decision you make throughout the business planning process. Some concessions may have to be made as you plan, but you don't want to get too far from your core philosophy or you will be disillusioned very quickly.
Gathering Key Resources
Once you've established a philosophy, the next step is to gather and leverage a few key resources. Some of the most vital resources are licensing, community experts, quality rating improvement systems, and other nature-based preschools. From a programming perspective, acquiring (and reading!) the licensing regulations for your state is a critical step. Knowing the guidelines will be important for virtually every decision you make from this point forward -- from staff qualifications to the height of the fence in the play area. 
In addition to licensing, I encourage you to talk to the early childhood coordinator in your community (he or she will likely be part of the local school district). This coordinator will be able to share the general landscape of preschool programs in your area, including community needs. She or he will also be able to direct you to your state's quality rating improvement system (QRIS). Not every state has a QRIS system, and those states that do generally have different names for their system. Whatever the exact name, these systems provide a minimum standard of quality that is related to but generally separate from licensing. 
The other resource you can take advantage of are other nature-based preschools. I encourage you to visit multiple sites and make note of their staffing structure, physical facility both indoors and out, program structure, legal structure (e.g., 501c3), tuition structure, etc. You can gather much of this information from the program website prior to visiting, allowing the visit itself to be focused on answering specific questions you've prepared. (Keep in mind that preschools are busy places so always be respectful of time, and cognizant that larger, more well-known programs often have multiple visitors each month.)
Programming Considerations
Once you have a general philosophy outlined and understand the rules governing your efforts, you can begin to make specific programming decisions. First and foremost are decisions about ages you'll serve and whether those will be single-aged or mixed-aged classes. How often and for what length of time will those children be present? How many students will be in each class? How many adults will work with those children? 
In addition to logistical decisions, there are questions that influence teacher-child interactions. Will you implement an early childhood curriculum in addition to the nature-based approach? Will you choose a behavior management model for addressing child behavior and problem-solving? Professional learning opportunities for these models and other teaching aspects are also important considerations. Most states require a minimum number of development hours annually, but you may choose to provide additional opportunities to your staff. Local, state, and national conferences (such at the annual
Natural Start Conference
), webinars, and workshops are valuable resources for teachers' ongoing learning. You may also choose to enlist program support from outside experts. This could be an outside consultant who observes your program to provide substantive feedback for improvement and/or accreditation from a group like the National Association for the Education of Young Children (NAEYC).
Once you have made decisions about curriculum and teacher supports, think about what programming elements you'll include to support families. How will you communicate about what is happening in the classroom, changes in schedule, etc.? Printed weekly or monthly newsletters, email, text messaging, and a variety of online communication tools bring different pros and cons. In addition to ongoing communication, you'll want to think about other key communication and interactions with families. This includes orientation, home visits, parent-teacher conferences, and even whole-family social events. When and where will these additional events occur? Will you provide care for their children during these meetings? These decisions about interactions with families will play a significant role in your program implementation and contribute to program satisfaction and success. 
These programmatic questions will sometimes be answered more clearly when it comes to the financial portion of your plan. For example, you may be thinking of a class of no more than 17 children with 3 teachers but, to make the budget balance, you realize that you need 18 children in the class. (Keep in mind that these changes all need to adhere to your state licensing regulations.) Nonetheless, it's important that the programmatic vision is always at the forefront as you plan.
Building and Site Considerations
The physical environment supports your programmatic vision. This includes both the building and the site where your building is located. Whether you are building a new facility or using an existing one, review the licensing regulations for guidance on your physical space. Licensing will provide minimum standards for your indoor and outdoor spaces -- among many other details. Then think about other features needed to bring your preschool vision to reality. What will you need to add to the indoor and outdoor play areas? For example, you may want a gate that connects you to a natural area beyond the play area, or a door from your classroom directly to the outdoor play area.
In addition to the direct programmatic needs, think about building and site elements needed for general operations. For example, is there a space for families to wait indoors prior to picking up their child? Will you have a washer and dryer for handling laundry? Trust me, these seemingly mundane questions (and there are lots of them!) will make for happier staff, parents, and children in the long-run!
Marketing Your Preschool
Happy parents and children will also be your greatest marketing tool! Word of mouth--parents talking positively about your school to other parents--is vital. Unfortunately, families must be enrolled before they can be happy and tell their friends to enroll--a challenge when you haven't opened yet! Many programs have addressed this issue by offering caregiver-and-tot programs the year prior to opening the program. If you offer such a program, I strongly encourage you to have your anticipated preschool teacher be the leader. Also, consider offering open houses for families to see the physical space and meet the teachers. Of course, marketing efforts should also include traditional outlets such as social media, advertisements in the newspaper, posters in the children's section of your library, etc. Remember that parents appreciate program philosophy and that will lead them to inquire about your program, but it's the people that make them stay. In other words, look for ways for parents to meet the people that make your program a great choice.
Operational Considerations
The less thrilling, but equally important, part of preschool planning is the plethora of operational decisions. Among these are administrative and support staff structure, and policies and procedures.
Will you have a director? Will the director teach and serve as an administrator or only conduct administrative duties? Who will handle registrations, payments, and paperwork related to enrollment? Some programs have the director handle this paperwork in the first years and then add an administrative professional once the program numbers have grown. In addition to administrative staff, be sure to think about support staff like substitute teachers and housekeepers.
Once you've determined your various staffing needs and responsibilities, you'll need to establish policies and procedures for those staff to follow. Generally, these policies are captured in two documents: 1) policies and procedures manual and 2) parent handbook. These documents should capture details such as the minimum hiring requirements for staff; expectations for parent volunteers; procedures for student illness; first aid procedures; trail safety protocols; procedures for discipline; how you support children with special needs; and more. In summary, there are many operating decisions to make and they should be documented as soon as you have a policy or procedure in place.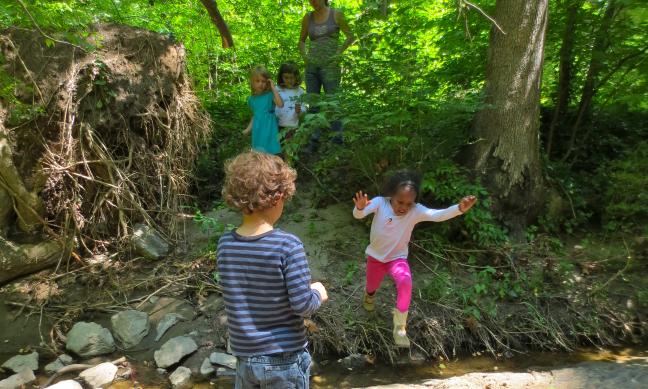 Financial Considerations
While many of the decisions we've discussed to this point have a financial impact, there are some programmatic decisions specifically related to financial planning. The biggest of these is program registration. When will registration begin? Will you charge a registration fee and/or deposit? How much will you charge for monthly tuition and when will that payment be due? Another critical decision related to registration is whether to offer scholarships or income-based tuition rates. If you determine that you want to offer those options, there are additional questions such as how those scholarships will be funded and how you'll determine eligibility. You may embark on this process expecting to offer scholarships to lower income families, but your financial planning may determine that scholarships aren't feasible until a few years into your program operation.
Putting It All Together
There are many decisions to be made related to programming, building and site, marketing, operations, and finances before you officially open the doors to your new preschool program. I've outlined a few of those here details here, but there are many more. Sorting out these details can easily feel like an overwhelming task, but take your time. Documenting each decision in your business plan, based on your program philosophy, will create the handbook that guides you to your goal. Good luck! After all, we need more high-quality nature-based preschools in the world! 
About the Author
Rachel Larimore is author of the book "
Establishing a Nature-Based Preschool
" and doctoral student at Michigan State University. She was formerly the Director of Education at Chippewa Nature Center in Midland, Michigan and the founding director of the Center's nature-based preschool. Learn more about Rachel and her work at
www.rachel-larimore.com
.