Member Spotlight
Diana Wilks
Preschool Teacher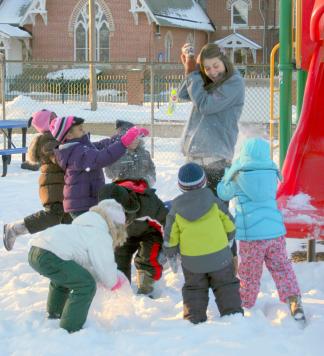 One of the best things my parents did for me as a child was not allow me to watch television. My siblings and I spent all of our spare time outside, playing in the yard, the street or at the park. We would stay out until the sun went down. Our summers were spent at my grandfather's farm, camping in the woods and swimming in the ocean. As I grew older, my love for the outdoors and for nature grew as well. 
I now teach early childhood, and my love for being outside has translated to the way I teach. I supervise the afternoon program for children ages 2½ to 6 at a small private school in New Jersey. I do not have a classroom of my own, and since I am not able to design a classroom the way I would like to, I have adopted the playground as my classroom! 
In the playground, there is a large grassy space for the children to run, a climbing area over wood chips, a few picnic tables, a big sandbox, a water table, a basketball net and three gardens; fruits, vegetables, and flowers. We also have a shed full of things the kids can do outdoors: sidewalk chalk, nets to catch bugs, shovels to dig for worms, sketchbooks to draw in, balls to kick and throw, paint to make murals, blankets to lay on, musical instruments to play, books to look at, and lots more! 
In autumn, each child receives a bag to decorate, which becomes a place to store their collection of fall "treasures." We go on frequent nature walks to observe the change of season and to collect the treasures it brings. The children love to have their very own collection of acorns, seeds, nuts, pine cones, and colorful leaves! One year a parent said to me, "I'm not sure what you have been teaching the kids, but my child loves nature all of a sudden. He always wants to stop and pick things up off the ground...he calls them treasures!" 
My desire is that each child I teach would develop a love for nature and a passion for taking care of the Earth and the treasure it holds.