Member Spotlight
Virginia Museum of Fine Arts Early Childhood Education Programs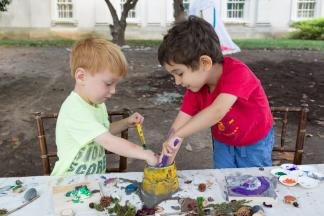 When we heard that the Virginia Museum of Fine Arts offered a nature-based summer camp for young children, we immediately wanted to learn more! We asked 

Lori Coffey, the museum's Early Childhood Education Coordinator, to share with us the impetus behind the program and any tips and advice she might have for other museums interested in offering nature-based early childhood programs.
Can you describe your museum's early childhood programs for our audience?
The Virginia Museum of Fine Arts Early Childhood Education Programs take place in an 87,000-square-foot building, 3.5-acre sculpture garden, and multilevel grounds with an undeveloped tree line, styled gardens, and cascading waterfall. We offer year-round one-off programs, group visits for early learning centers, and multiday camps and classes for children from 3 months to 5 years of age. Interactive in nature, these classes are informed by child development and a belief that children are capable and imaginative. We strive to promote self-expression through play, music, movement, and art. Our programs include free play with sensory materials and educational toys, singing and movement activities, story time, adventures in the galleries and in the garden, and open-ended art projects.
Tell us more about your nature-focused programming and the materials you use.
Four years ago we began shifting our methodology away from a teacher-directed learning style as we studied the Reggio Emilia teaching approach. We were inspired by how nature was part of Reggio-based classrooms, how they infused natural elements into indoor and outdoor classrooms, and how this influx enhanced children's development and growth. We began incorporating nature themes in our classes and offering natural materials for the children to create with. We designated nature-based themes for specific months, with events hosted on the museum grounds. Recently, we have taken this idea one step further by including outdoor activities throughout the curriculum all year long. 
We use natural materials in our play components, using small bricks, wooden blocks, and pine cones. We have galvanized steel buckets, wooden rakes and shovels for digging and collecting, and binoculars and magnifying glasses sized for small hands. Kinetic sand and water are often used at our sensory table, and scarves and fabrics for draping outdoors. We use mud to paint, make paint brushes out of pine needles, and offer sticks and fir tree branches for painting. We provide dried flowers, leaves, and other natural materials for collages and sculptures.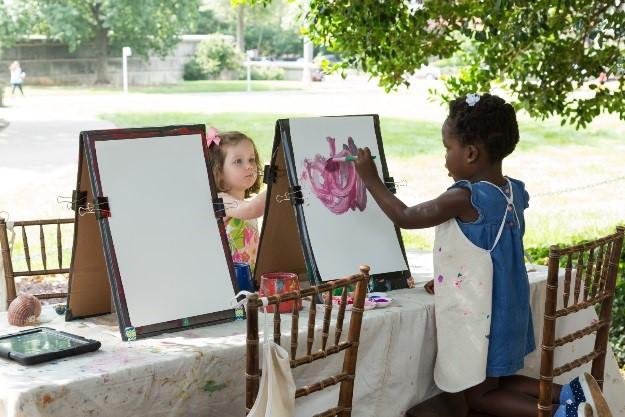 Tell us about your five-day camp, why you offered it, and any feedback you received from parents.
Curiosity Camps are five-day drop-off programs for children ages 3-5. Children are given the freedom to explore their interests through sensory play, building on light tablets, art-making or with toy animals, puppets, cars, and trucks. Each day the group ventures out into the sculpture garden to draw and explore. They sit and draw the fish in the reflecting pond, search for leaves and other natural items under the trees, or run in the grass on the open lawn. 
This past June we hosted a "Sculpture Garden Studio" in which children spent five mornings in an outdoor classroom on the museum grounds. Caregivers checked in their children at our Art Education Center and then the group headed outside to a tree-covered location with sand, rocks, a tent, and tables with outdoor easels. 
Students spent the week exploring the outdoor classroom's natural environment. Under the trees, the children discovered a space that fostered their imagination and creative spirit. The freedom to follow their own interests led them to look closely at seashells, dig in the sand, and create art with the natural materials found in their surroundings.
The feedback from caregivers was overwhelmingly positive. This camp was the first to sell out and had students on a waiting list hoping for a chance to attend. Our program survey came back with comments like "We loved the time outside and the various projects that incorporated nature" and "I think she loved being outside and using natural materials (mud and pine needles) to paint".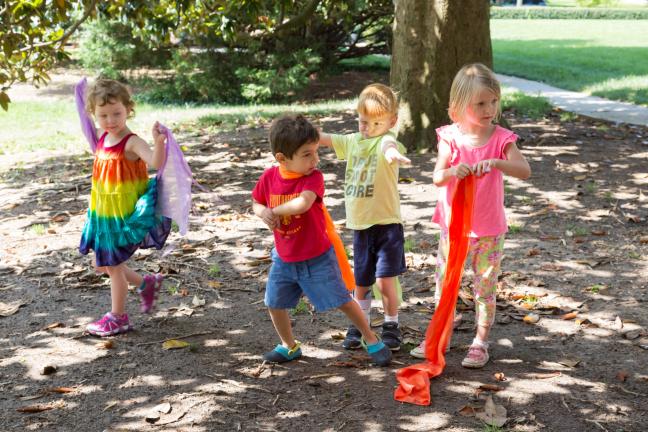 What are some tips you could give to other museums who want to include nature-based programming into their early childhood initiatives?
Taking the time to walk outdoors and let the children paint, play and immerse themselves in the natural sights, smells, and sounds around your museum will be so rewarding! Partner with your museum's horticulturalist; having their support will enable you to use the space and materials. 
You can use your audience to support your nature-based initiatives – ask them if they would like you to host the programs outdoors. You will be amazed at the positive response!
Also, it is incredibly easy to beautify your learning space with natural materials: a branch hanging on the wall, baskets for blocks to be stored in, wooden trays to hold art supplies. Purchase a sturdy cart to transfer materials indoors and out. Canvas dropcloths are affordable and work wonderfully for children to sit on, create, or listen to a story.