Member Spotlight
Tiny Explorers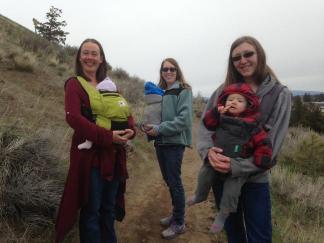 Tiny Explorers is a program presented by the Children's Forest of Central Oregon. It encourages new parents to kickstart a healthy life enjoying the outdoors by getting their little ones outdoors starting at a young age. We asked Katie Chipko, Executive Director of the Children's Forest of Central Oregon, to tell us more about it.
What makes Tiny Explorers special? What were the reasons you created the program?
The Children's Forest of Central Oregon is a collaborative of 23 diverse organizations dedicated to addressing nature-deficit disorder in our region. Most of our work to date has focused on school-aged children and youth, and in recent years we've wanted to expand our reach into early childhood. We really wanted to start a love of nature early and to instill this into family life starting as young as birth. 
Potentially sparked by the birth of my daughter, June, we decided to start Tiny Explorers, which is a program aimed at new parents and their children, focusing on ages birth to 2 years old. The program has three monthly meetups in community parks in Bend and Redmond. We also provide information about the health and developmental benefits of time in nature for infants (and their parents) and provide free baby carriers to low-income families that participate in the program.      
What does a typical meetup look like?
Our meetups are pretty informal, as most of the children that attend are under 1, with a mix of ages. Typically, we'll have 3-5 families and we start by going on a short walk through the park with our babies in baby carriers. Then, we'll spend some time just letting the kids lay, crawl, or walk in the grass, playing with natural materials. The meetups are very much a time for new parents to connect with each other and talk through their challenges. As a new parent myself, the first few months of June's life were extremely challenging for me, and anytime that I could get outside, even for a short walk, was such a solace to me, and we also found it to be very calming for June. This program is great because it gets the parent and baby outdoors, while allowing the parents to connect with each other. 
How have parents responded to the program?
The program is brand new and is still gaining traction, but the parents that have participated have been extremely thankful to have on outdoor meetup that is geared towards this age group. Having a place to connect with other parents that have a shared experience is so valuable for this transitional time. We have a few moms that are new to the area and are thankful to have somewhere to meet other moms. There is also a single parent—who is also a student—and she will be volunteering with the program to be a host for the meetups as part of her studies in early childhood education.  
Do you have any advice for educators thinking about starting a similar program?
For us, it has been really important to allow the program to evolve naturally. Being an environmental educator, I was used to having a plan with lessons and activities. With infants of mixed ages, this is obviously a different scenario... half of your participants might be napping and the other half might be ready to move around (at their own pace, of course). Letting the group make the plan together has been really effective.